Christian Faith Chapel is a non-denominational fellowship in Pendleton, NY. We are associated with Village Missions based out of Dallas, OR. The following are some of our core beliefs:
Our mission is that we seek to know God that we might glorify Him. We know Him as we grow in the knowledge of His Word. Bible Study, Sunday School and Biblical preaching all help us to know God better. As we "know what to do", we then can "live out" our faith. Fellowship with other believers and reaching out to those who don't know Christ are essentials to living out our faith.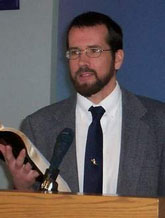 Pastor Eric Roselund is the pastor at Christian Faith Chapel. He has been at Christian Faith Chapel since March, 2002. He is a missionary pastor with Village Missions, whose goal is to "preach the Word and love the people." Through the mission, Eric completed the ACT program and received his Bible training through Bethany Bible College. Eric and his wife Helen have 5 children: Jacob, Jordan, Joshua, Lydia and Jeremiah.
Become a Part of
Christian Faith Chapel!